Programming
Pique summer edition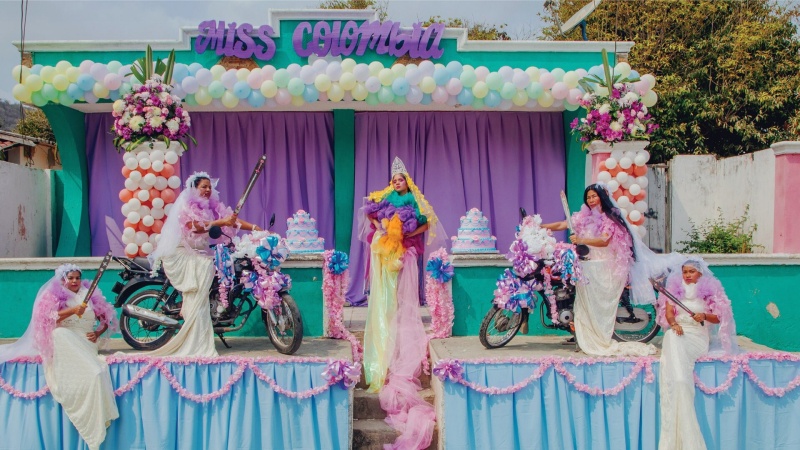 Artists
Lido Pimienta, Bear Witness (of The Halluci Nation), Colloboh, Frost Children, EYIBRA, Aïcha Bastien N'Diaye, Anaïs Cardot, Jairus Sharif, OK Naledi, THEA, Hug Mosh, Bonnie Doon, Matt Miwa, Kathryn Patricia, Go Long, Backseat Dragon, Fireball Kid, N'nerjie, Siaka Diabate, KAY-fayb, Everett Rama, 13assa & Shaye A and the music of Raven Chacon performed by Quatuor Bozzini
Tickets to Pique are available here
The summer edition of Pique multidisciplinary arts festival, happening June 10, 2023 at Arts Court, is the biggest and boldest edition of Pique yet. The all-ages festival will present 30 artists across 10 stages and multiple exhibition spaces, indoors and outdoors, for groundbreaking performances, art exhibitions, screenings, workshops, and more.
The block-wide arts festival will serve as a joint birthday party for two of Ottawa's leading cultural presenters. Pique producer organization Debaser celebrates its 10th anniversary this spring, and host venue and presenting partner SAW celebrates its 50th. The two organizations are joining forces to bring marquee programming to Pique on June 10, including performances by Lido Pimienta, Bear Witness (member of the Halluci Nation), Aïcha Bastien N'Diaye, and Quatuor Bozzini performing the music of 2022 Pulitzer Prize winner Raven Chacon.
The occasion triples as the Arts Court Open House Party, bringing together the building's resident cultural organizations to animate every corner of Ottawa's most vibrant cultural hub for an afternoon of free building-wide family-oriented activities.
The outdoor Art Market returns to Daly Ave with 25+ artist and food vendors, and for the first time at Pique, we are bringing live music back to the Saint Lo Jail Hostel (the site of Debaser's first-ever show 10 years ago)!
More programming highlights include:
Lido Pimienta will be our artist-in-residence for the month leading up to Pique, hosted by SAW at the historic Rochon Residence in the ByWard Market, culminating in a special performance at Pique.
Paul Wong, Monika Kin Gagnon and Richard Fung will participate in a panel discussion on the seminal exhibition project Yellow Peril: Reconsidered (1991), featured as part of the retrospective exhibition Shows of Solidarity: 50 Years of Video and Performance at SAW, currently on view at SAW.
Guest curators Many Place Money Party take over the parking lot of the Saint Lo Jail Hostel, the site of Debaser's first event in 2013, for a hyper pop program featuring New York's Frost Children with emerging regional artists Hug Mosh, Fireball Kid and Everett Rama.
Mexico City-based performance artist EYIBRA presents a six-hour durational performance and multimedia piece incorporating 3D visuals, movement and sound art that explores the artist's queer non-binary identity in the context of their Ukrainian roots.
We Are the Medium guest curators Sundus Abdul Hadi and Yassin "Narcy" Alsalman present a special pop-up of Maktaba Bookshop, an artist-run concept bookshop and cultural space, fully integrated into the festival.
Visit the microcinema of the Digital Arts Resource Centre to check out Radical Noise: Social Action through Music and Video, including shorts by Lido Pimienta, Bear Witness, Howard Adler, Lesley Marshall, and more.
The scenic outdoor terraces of the Ottawa Art Gallery will be transformed into intimate showcases of local talent, including Anaïs Cardot, THEA, Bonnie Doon and Matt Miwa, Backseat Dragon, and Go Long.
A livestream broadcast from Club SAW and the SAW Courtyard produced by Kilam Media will allow audience members anywhere in the world to experience Pique programming, watchable at thisispique.com.
ABOUT PIQUE
Launched in 2021, Pique is a forward-thinking, artist-driven quarterly event series featuring eclectic musical, visual and multimedia artists, produced by Debaser. Four times per year, Pique takes over the Arts Court building in downtown Ottawa for a pay-what-you-can and all-ages celebration of music, art and more.
ABOUT DEBASER
Since establishing in 2013, Debaser has become one of Ottawa's leading independent and underground music presenters, best known for its experimental music curation and inclusive events. Debaser is a non-profit organization that exists to support underrepresented, equity-deserving and outsider art and artists, catalyze artist-driven and collaborative projects, and create inclusive and responsive community spaces that cultivate shared understanding, joy, and social impact. 
PARTNERS AND FUNDERS
Pique summer edition is presented in partnership with Arts Court, Ottawa Fringe, the Digital Arts Resource Centre, the Ottawa Art Gallery, the Canadian Film Institute, Artengine and the Ottawa Dance Directive, with support from Kilam Media, Saint Lo Hostel, Wall Sound, Dominion City Brewing Company, Postering Ottawa, n.10.as, Apt613, and CKCU FM, and is funded by the Canada Council for the Arts, the Government of Canada through the Community Services Recovery Fund, the Government of Ontario, Canadian Heritage, the City of Ottawa, the Ontario Arts Council, the SOCAN Foundation and the Ottawa Community Foundation.