Archives
Uvatinni Uqallajunga / I'm Calling Home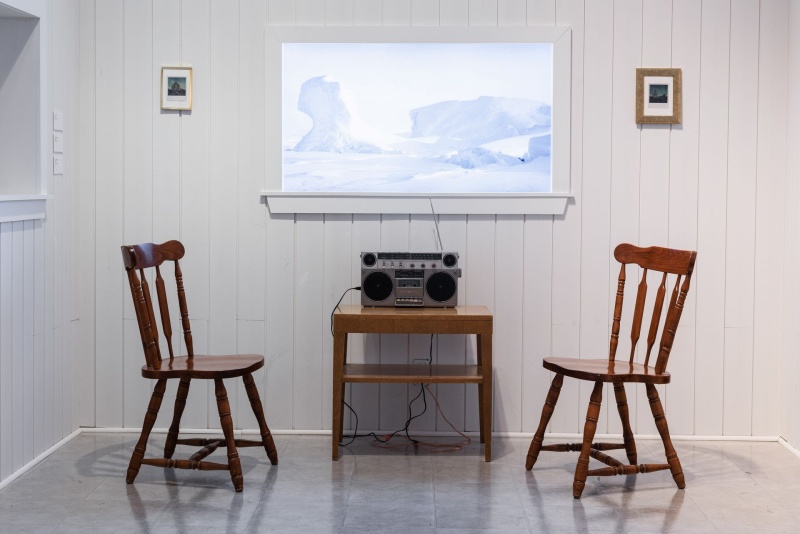 Reception and performance
Thursday, September 14, 2023, 9PM–1AM

9PM–10PM
Cocktail reception and food prepared by Ndn Taco Pop-Up by Howard Adler (Ottawa)

10PM–11PM
Performance by Geronimo Inutiq (Ottawa) with guests Jocelyn Piirainen (Ottawa) and Julien Morissette (Gatineau)

11PM–1AM
Music by DJs Geronimo Inutiq and Glory Hull (Gatineau)

During a residency at SAW Nordic Lab in 2020, Geronimo Inutiq developed a project around the idea of a virtual radio station broadcasting a community radio show in three languages (English, French and Inuktitut) to be presented as a multimedia installation.

The concept of recreating the interior of a house in the North, with one or more "virtual windows" showing an Arctic scene and a radio station playing in the background, was developed with the support of an artistic exploration grant from the Canada Council for the Arts in 2021. The project's first iteration was presented at the Canadian Centre for Architecture in Montreal in 2022.

In parallel, as part of the AGAVF's Créer des liens entre les communautés à travers l'art contemporain initiative, the artist adapted the project into a touring community presentation developed with and presented by organizations from various regions in Canada. The last presentation will be held at SAW in Ottawa as part of the Zones Théâtrales biennial to create further exchanges on the idea of home with special guests and audience members from the Ottawa-Gatineau region and Zones Théâtrales delegates from across Canada.

An initiative of the AGAVF in partnership with SAW Nordic Lab and the Alliance des radios communautaires, Créer des liens entre les communautés à travers l'art contemporain is funded by the Government of Canada.
Biographies

Geronimo Inutiq

With experience in electronic music production, performance, film, video, digital images and multimedia installation, Geronimo Inutiq has performed and exhibited his music and artwork across the country in multiple installations and prestigious venues. As a cultural worker, he has participated in important social dialogues. Known notably for his innovative work in remixing Inuit music and for seminal film archive video remixes, Geronimo Inutiq continues to offer a unique perspective through his creative pursuits.

Jocelyn Piirainen

Jocelyn Piirainen is an urban Inuk originally from Ikaluktutiak (Cambridge Bay), Nunavut. In 2023, she was appointed Associate Curator of Inuit Art at the National Gallery of Canada. From 2019 to 2023, she worked as the Associate Curator of Inuit Art at the Winnipeg Art Gallery and Qaumajuq. Piirainen's previous curatorial work includes collaborations with the Canadian Centre for Architecture in Montreal on the exhibition ᐊᖏᕐᕋᒧᑦ / Ruovttu Guvlui / Towards Home and with the Asinabka Film and Media Arts Festival on NEON NDN: Indigenous Pop Art, presented at SAW in Ottawa. In addition, she was a co-curator of the landmark exhibition Tunirrusiangit: Kenojuak Ashevak and Tim Pitsiulak, presented at the Art Gallery of Ontario in 2018. Piirainen earned a BA from Carleton University, majoring in film studies, and attended Algonquin College, where she studied multimedia development. Her writing has been featured in Canadian Art, Canadian Geographic and the Inuit Art Quarterly.

Julien Morissette
Julien Morissette is a filmmaker, sound designer and musician from Gatineau, where he lives and works. Since 2016, his digital art practice has focused on radio creation and storytelling. In addition to doing sound and radio design for the stage, Morissette has created and designed audio installations presented in various artist-run centres. In 2017, he co-founded the Festival de la radio numérique and Transistor Média, a company specializing in documentary podcasting and digital audio fiction. He has designed and produced audio series such as L'heure de radio McGarrigle, La Scène nationale du son and Signal nocturne (Télé-Québec), Synthèse (QUB Radio) and En direct de (Radio-Canada). With Karina Pawlikowski, he is working on the audio fiction series Les amours extraordinaires (Radio-Canada) and the stage project Quelque chose de la lenteur.
SAW is grateful to the Association des groupes en arts visuels francophones (AGAVF), Zones Théâtrales, NAC Indigenous Theatre, the Association des communautés francophones d'Ottawa (ACFO Ottawa)'s Bilingual Ottawa program, Steam Whistle Brewing and Beau's All Natural Brewing Company for their support of this presentation as part of SAW's 50th Anniversary Program.

Image: Uvatinni Uqallajunga / I'm Calling Home / J'appelle chez nous, Geronimo Inutiq. Installation view, 2022. Photo Matthieu Brouillard © Canadian Centre for Architecture