Archives
Pique + Nordic Lab
Artist Residency, Music
SAW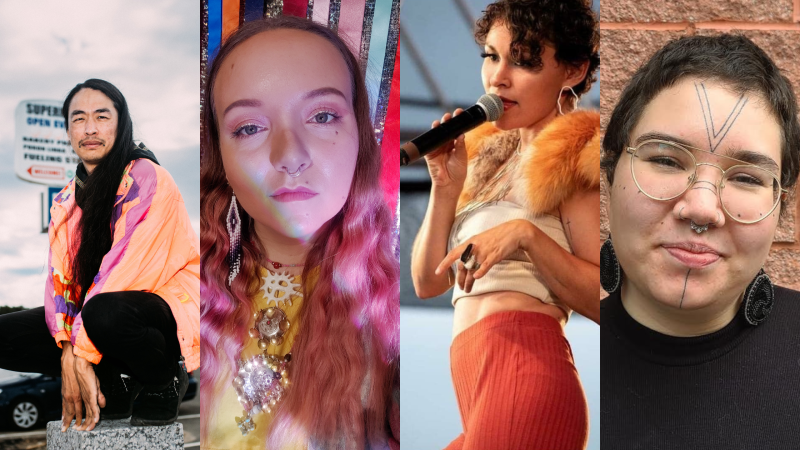 Artists
Uyarakq, Sunna Maaret, Qattuu and Aedan Corey
An international residency with music producer Uyarakq and filmmaker and curator Sunna Maaret (both from Inari, Sápmi/Finland) in collaboration with throat singer Qattuu (Pangnirtung), hosted by SAW and the Nordic Lab at the historical Rochon Residence, will culminate in a collaborative audio-visual performance at the Pique festival at Club SAW on June 11, in addition to other presentation and commissioning opportunities following the festival.

SAW and the Nordic Lab are also proud to support the production of a new commissioned print work by artist, writer and curator Aedan Corey (Iqaluktuuttiaq), which will be produced and installed on-site in the Nordic Lab screenprinting studio throughout the Pique festival. 

Also on June 11, the SAW Prize for New Works exhibition will be open all day and evening in SAW's galleries, and Club SAW and the SAW Courtyard will be animated with live music, DJs and performance as part of Pique and the Arts Court Open House. Tickets are pay-what-you-can.
About the artists

Aqqalu Berthelsen, also known as Uyarakq, was born in Nuuk, Greenland, in the mid-1980s. He is a self-taught music producer/composer and DJ with a background in metal music, now working primarily in the Indigenous circumpolar hip hop and rap scene with a foot in two continents, the North American arctic and the European arctic. He won a Greenlandic Koda Award in 2015 for his solo album Raatiu Nukik (2014) and was nominated for the Nordic Council Music Prize in 2016 for the collaborative work Kunngiitsuuffik (2015) alongside the Greenlandic rapper Peand-eL. He is now living in Inari, Northern Finland/Sápmi.
www.soundcloud.com/uyarakq

Sunna Maaret is a Sámi-Finnish storyteller, organizer, DJ and sometime memelord from Anár, Sápmi. She is one of the founding members of the DJ collective Article 3, which indigenizes the dance floors with Sámi and global Indigenous party tunes combined with visual projections. Under the artist name Sunna Maaret, she explores the possibilities of DJ performances to create spaces for resting and daydreaming.
https://www.instagram.com/sunnamaaret
www.instagram.com/djarticle3

Emerging and embracing her new career path in the arts, Qattuu is a self-taught professional throat singer and vocalist. In addition to performing with multi-JUNO-nominated band Silla and Rise, Qattuu has now decided to follow her other dreams of becoming a full-time freelance solo artist.
www.hitmakerz.com/qattuuevic

Writer, traditional Inuit tattooist and emerging visual artist Aedan Corey is the author and illustrator of the chapbook Inuujunga (Coven Editions, 2021) and short story "Unikkaannguaq" (NipiitMagazine, 2020). Raised in Iqaluktuuttiaq, Nunavut, a town of approximately 1,800 people, Corey began creating art at a young age. Their work is heavily inspired by their lived experiences as a queer, neurodivergent Inuk. Corey's goal is always to inspire and advocate for those within their communities through their artistic practices, letting others know that they are not alone. Corey currently resides in Ottawa.
www.instagram.com/uviluq_by_design
About Pique

Organized by Debaser, Pique is a forward-thinking artist-driven festival series celebrating bold, innovative and experimental music and art. Pique's summer edition on June 11, 2022, will feature bold and innovative live music performances, interactive art installations, DJ sets, dance and performance art on five stages and three floors, indoors and outdoors.
Funders: the Canada Council for the Arts, the Government of Canada, the Ontario Trillium Foundation, the Government of Ontario, the Ontario Arts Council, the City of Ottawa, the Nordic Council of Ministers and the Ottawa Community Foundation

Partners: Debaser, the National Capital Commission, Inuit Futures in Arts Leadership: The Pilimmaksarniq / Pijariuqsarniq Project and the Digital Arts Resource Centre